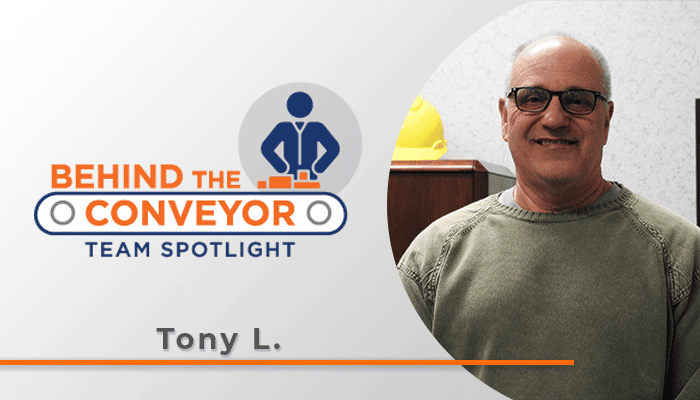 Behind the Conveyor – Team Spotlight
Dorner has become a global brand in conveyor automation – and that's all thanks to our team. In this blog series, we highlighted talented professionals whose dedication and passion are making a positive impact on your conveyor systems. These are the faces behind the brand who are helping to transform conveyor automation … and having fun doing it!
Meet Tony
As Dorner's Field Service Supervisor, Tony L. has the unique opportunity to work with almost every department in the organization. "It's great to be in a position that allows me to understand challenges from other parts of the business, not just the service side of things," Tony said.
Tony started with Dorner 7 years ago as a Field Service Manager, overseeing conveyor system installation, repairs, and maintenance within customers' facilities. While he is not in the field as much anymore, he still plays an integral part in making sure each customer's conveyor system is installed properly and running great for years to come.
Tony's passion for manufacturing, conveyors, and helping customers shines through in everything he does at Dorner. He loves seeing projects move from the drawing board to the production floor and finally, getting installed in a customer's facility.
When asked if he had any advice to offer someone placing an order for a new conveyor, Tony said "a conveyor is a long-term investment." It's important to double and triple-check everything before placing an order, and to think about the future of your company and products. How is this conveyor going to serve the company as it grows? "If you have questions, speak with our applications team, please use our knowledge and experience to build a system that meets all your needs."
The Dorner Difference
It's professionals like Tony that go above and beyond each and every day. Our global workforce takes pride in partnering with our customers to optimize efficiency and productivity in their applications. We accomplish this through the design, manufacture, support, and distribution of high-quality conveyor systems that meet our demanding standards.
That's the Dorner Difference